Yacht Stainless Hardware Heavy Duty T- Hinge (152*76mm) Mirror Polished Stainless Door Hinge
Hiever focus on marine grade stainless steel hingse with rich experience and strict quality control.The yacht marine grade stainless  T- hinge with mirror polishing  can be used in many harsh environment without concern about surface coloring fading or material aging . As we are expert in this hinges fields , just contact us for solutions freely , competitive wholesale price and guaranteed quality is the reason you choose us !
Yacht Stainless Hardware Heavy Duty T- Hinge (152*76mm) Mirror Polished Stainless Door Hinge
Marine grade 100% stainless steel SS304/316
Dimension : 152*76mm
Surface Finish : Mirror Polished
Similar Recommended : 100*54mm (Small) /152*76mm(Middle )/203*98mm (Big)
Feature : Yacht stainless heavy duty T- hinge with mirror polished surface is also the ideal industrial hinge used for gates, cabinets, dock boxes, ice chests, furnace , huge crate ,etc. The complete casted stainless steel are thick enough to bear the high loading capacity and the harsh environment outdoor, the natural silver stainless color can not fade , and the solid material never has the problem of aging . Although the cost is a little higher than the stamping thin hinges and the plastic hinge , but you will understand that this high marine grade hinges are worthwile to choose for ever ! As we are the manufacturer , OEM hinge orders are available too .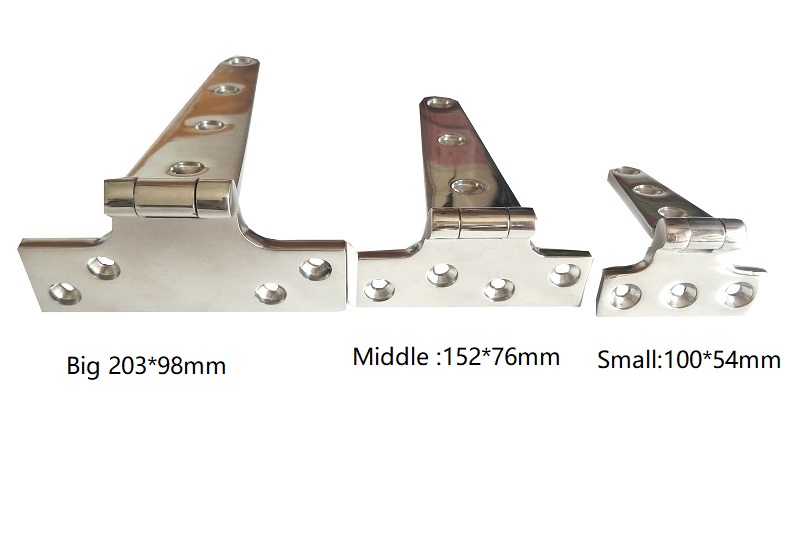 Want a Customized Quote ?