Main Equipment & Main Process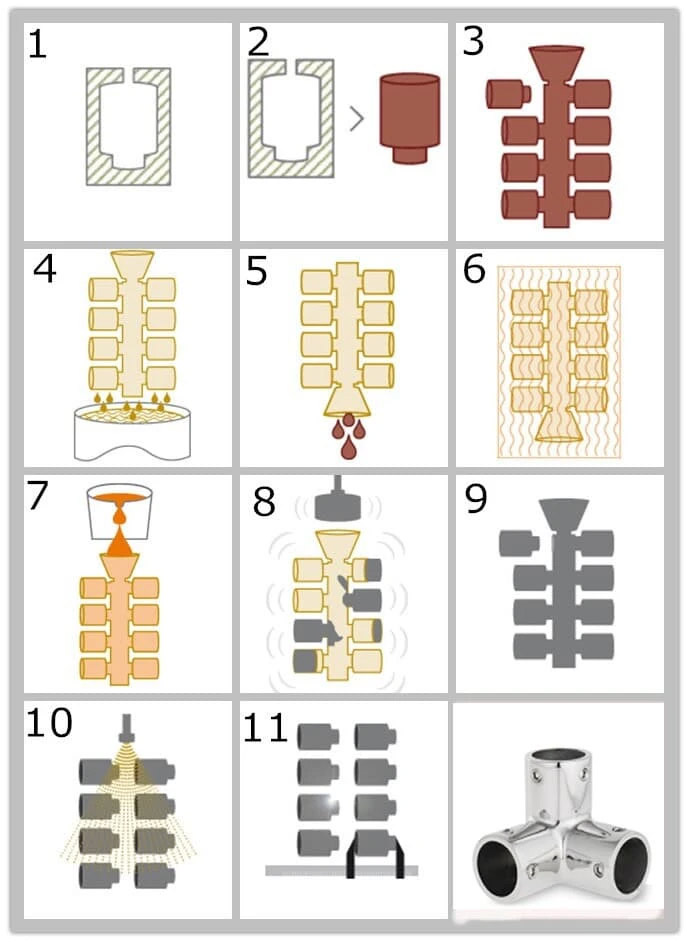 1. Manufacture of wax injection die
To produce a component by casting technology, a mold or matrix is required. This mould delineates the contours of the casting. Since the molding wax does not have an abrasive effect on the matrix, this matrix has a very long service life. This is a one-time, or non-recurring work step.
2. Wax model injection molding
The future casting and the casting system are reproduced in wax by injection moulding. This requires that the injection pressure of the machine and the temperature of the molding wax are precisely coordinated in order to guarantee high dimension accuracy and surface quality.
3. Assembly of wax model
In this work step, the wax models and the sprue are assembled to form a wax tree. Experienced employees assemble the wax trees with great care, thus guaranteeing the high quality of the cast components.
4. Dipping, sand coating and drying
By repeatedly dipping the wax tree in ceramic slurry, coating it with sand and then drying, a ceramic shell is gradually formed, consisting of several layers. The primary coat of fine silica sand gives the castings a very smooth surface finish.
5. Dewaxing
In the dewaxing process, the molding wax is melted out of the ceramic shell at pressure in a steam autoclave.
6. Firing
During subsequent firing of the ceramic molds, the last traces of wax are completely burnt out, leaving no residues. The firing process cures the ceramic shell and gives it the required strength.
7. Casting
The customer-specific alloy constituents required for each casting batch are compiled and melted in our induction furnace. The molten metal is then poured into the hot ceramic mold using a pouring ladle. The precise temperature control of the molten steel, pouring ladle and ceramic molds assures the high material quality and surface finish even for thin-walled components with complex geometries.
8. Demolding
Once the cluster has cooled, the ceramic shell is carefully removed.
9. Separating
The casting is separated from the runner.
10. Shot blasting
Any ceramic residues are removed from the surface of the castings in a blasting process.
Finally, they are polished, heat treated, dressed, machined and/or surface coated as required by the customer.
11. Final inspection
We carry out optical checks on 100% of all investment casting products. The full range of criteria and measures to be employed in the quality control is coordinated with the customer according to his particular requirements.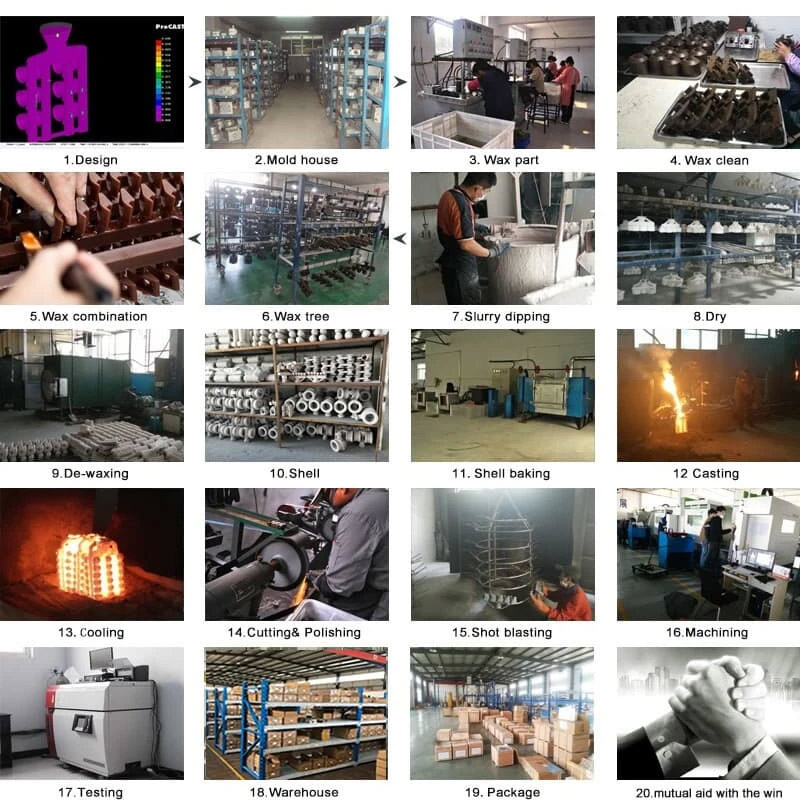 About Us
Hiever focus on designing, manufacturing, marketing and serving of high quality marine boat hardware, accessories and other stainless steel parts for industrial, commerical fields since 2003. Through strict quality control, good service and customized solution, we have been grown with many branded customers both home and abroad.
Contact Us
E-mail:

[email protected]

Tel: +86-535-4412783
Mobile: +86-15953501870
Address: #611, No.5, Hengshan Road, ETDZ, Yantai, China (Shandong) Pilot Free Trade Zone